Haleh Bahrami is the Vice President of Laboratory Operations at LifeLabs. Haleh joined LifeLabs in 2011 as our Microbiology and Molecular Diagnostics Lab operations manager. Over the years, she has advanced her career and now oversees the operations of 14 laboratories across Canada!
As we celebrate International Women's Day, Haleh shares a story about her life as an immigrant woman from Iran, a country where women's rights are in peril, and her parents' sacrifice to support her dreams in a country where women's rights are respected.
This is her story.
Tell us about yourself!
I was born and raised in Iran. My parents and I immigrated to Canada when I was 15, right after the cease-fire was announced between Iran and Iraq. Living in Iran through the revolution in 1979 and later the war, which lasted 8 years, was very difficult. My education was significantly disrupted. I was unable to finish grade 10 because of the war. My parents made a tremendous sacrifice to leave the life they knew, the language they spoke, and their careers, all for our future. A future where women's rights are respected.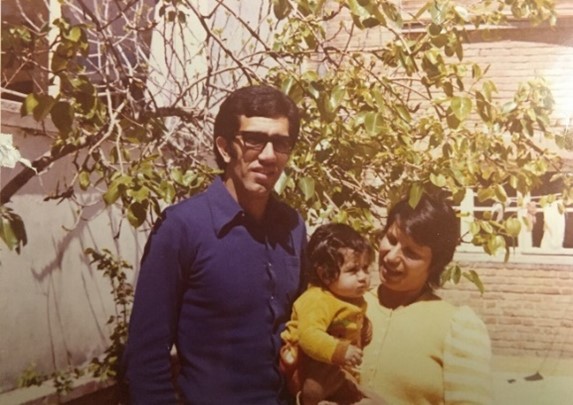 Haleh with her parents in Iran at her grandparents' home.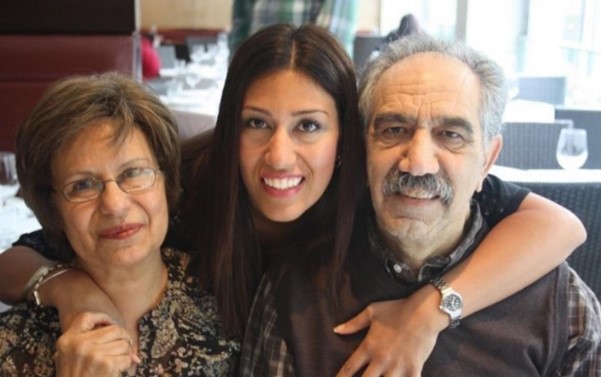 Haleh with her parents, Monir and Kiumars, at her mother's 70th birthday.
My father always said, "My only child is a daughter. I will not live in a country that suppresses her rights."
Thanks to my parent's courageous decision, I was able to finish high school in North Vancouver and attend UBC, where I developed my passion for microbiology. Coming from a country where women's rights and freedom are in peril, I feel incredibly blessed to live in Canada and work in an organization like LifeLabs, where supporting women is not disputed. As an immigrant woman, a daughter of immigrant parents, and a mother to a teenage daughter, I want to make sure other women thrive.
Do you feel you've been given equitable opportunities in your professional career? 
It has been both equitable and equal opportunities. I've been unrestrained to achieve what I want to achieve. I never felt unable to achieve a goal because of my gender. Still, that could be biased since healthcare is dominated by women. I've had many female mentors and great male leaders who supported and helped advance my profession. LifeLabs has provided me with the opportunities that led to the most significant evolution of my career, and now it's my turn to give back. I have grown to appreciate the value of those who evaluate you based on merit, passion and courage. After completing my MA in leadership from Royal Roads University, I focused heavily on roles that support my personal growth, which has bloomed into a passion for leadership and mentoring. I coach and advise future leaders in navigating the corporate ladder, supporting them in realizing their potential, and guiding them through creating a positive impact. 

Have you achieved your professional goals? 
The day I say, "I've achieved it all," will be the day of my demise. I'm a lifelong learner. I'm proud of how far I've come but I have yet to learn everything I want. My next journey will focus on self-reflection and how I show up as a leader, being a better human being and being purposeful personally and professionally. 
What is your tip for women wanting a career in STEM?
Be curious, and find connections in the field you want to thrive in. Learn about the good and the bad, the roads they travelled, including the bumps along the way. Mentors are all human beings; they have insights you don't learn in school. Listen to your intuition and believe in yourself. Don't ever allow anyone to dim your light. If you want it, then pave the path to achieve it. 
Stronger Together: Women do not lag; they lead at LifeLabs.
LifeLabs' is grateful and inspired by Haleh for sharing her story. The Diversity, Equity and Inclusion (DEI) journey at LifeLabs is to ensure that all individuals feel accepted, respected and valued.
With a 73% female workforce, the women at LifeLabs are a force of inspiration! They are driving innovation through customer-centred compassionate care while pushing the limits of scientific boundaries within the diagnostic laboratory domain. Women leaders are not in short supply either; the LifeLabs Management team includes 68% women, while the Senior Leadership team has 50% representation. The gender diversity statistics across the organization surpass the Canadian Centre for Diversity and Inclusion (CCDI) set benchmark of 51%. While we are proud of the strides LifeLabs has made in terms of women's representation, we know we still have work to do. Due to the biases that exist in the healthcare sector and other sectors alike, there are still barriers that must be faced. The highly gendered nature of health work causes invisibility for issues such as pay inequity and inaccurate assumptions about women's leadership capabilities, which create a "glass ceiling" that we aim to break.
In our five-year DEI strategy, our Stronger Together program is committed to continuing to foster representation now and into the future. Through this plan, we are working to ensure that the outcomes across mentorship, succession planning and investing in early education to build healthy pipelines of future talent create a foundation where women can continue to lead, and all LifeLabs employees have the opportunity to embrace equity and achieve their full potential.